Licensed Clinical Professional Counselor
Misty Bliven - MSED, LCPC
Misty earned her degree in Elementary Education and Masters in Counseling from Quincy University.  She is a Licensed Clinical Professional Counselor.  Misty was employed at Blessing Hospital for over 16 years,  She left her work as an Inpatient Crisis Intervention Therapist on the Child and Adolescent Psychiatric Services Unit to pursue a career in outpatient counseling.  Most of her focus has been with Children and Teens, but she is looking forward to assisting clients of any age with discovering their strengths to deal with issues that life throws at all of us.  Misty wants the sessions to be client directed and the environment to feel comfortable, safe, and nonjudgmental.
I want clients to know they are not judged. I want them to feel understood, heard, and not alone. We all have our own unique stories.
THERAPIST
Nakita Hughes - MA, LCPC, LMFT
Nakita is a Licensed Clinical Professional Counselor and a Licensed Marriage and Family Therapist. She enjoys working with clients from all ages and stages of life and has specialized training working with couples and families, as well as trauma and attachment issues. Nakita believes that all clients possess the solutions to their problems, as well as the strengths needed to solve them. Sometimes people just need a little help in uncovering them. Nakita works hard to honor each client's unique experience and to provide a safe, caring, and non-judgmental atmosphere.
I feel it is an honor and a privilege to listen to clients' stories. The decision to come to therapy can be a difficult one, but seeking help is a sign of strength, not weakness.
Nurse Practitioner
Reggie Westhoff - MHNP
Reggie Westhoff is a Board Certified Mental Health Nurse Practitioner and a Child and Adolescent Mental Health Clinical Nurse Specialist. With over 25 years of experience in behavioral medicine she has worked in both inpatient and outpatient settings. Reggie performs psychiatric evaluations, medication reviews, and prescribes psychotropic medications for children, adolescents and adults. Her approach is very client-centered and we feel quite fortunate to have her as a member of our caring team.
If I have a motto, it is to never, ever give up….no matter what the circumstances. There is always an answer.
THERAPIST
Trina Vogel - MSW, LCSW
Trina is a Licensed Social Worker in Illinois. She attended University of Illinois in Springfield earning a Bachelors degree in Social Work. She took a break from her studies to work in the Illinois Child Welfare System addressing the complex needs of parents, caregivers and children. Then she furthered her education by earning a Master degree in Social Work from the University of Illinois in Champaign with a focus on Children, Youth and Family Services. Trina also has specialized training in Play Therapy, Child and Adolescent Trauma, Trauma-Focused Cognitive Behavioral Therapy and Cognitive Processing Therapy.
Helping children and their families gives me the greatest satisfaction. I use creative and playful techniques to meet kids on their level to help them gain those skills they'll need to have a positive and successful life.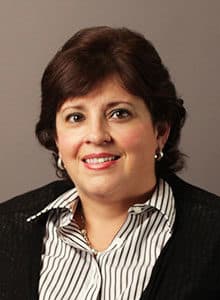 It has been my pleasure to enter into such a supportive and successful group of therapists and staff. I was born in Cuba, but my family relocated to Quincy early in my childhood, where I have lived since. I graduated in 1984 from Quincy University with a Bachelor's degree in Accounting. As a young adult, I worked as a bookkeeper for a local business. Later I went on to work for a doctor in the area for 14 years. I am currently the receptionist for Cornerstone. On a day to day basis, I enjoy the opportunity to interact with clients as well as assisting staff members and clients in facilitating the therapeutic process. I have three grown children who are the center of my world. Also, I am very involved at church and I love to garden, I love to meet new people, and after growing up in a Cuban household.
I have great appreciation for diversity in people's life stories. I am very excited to work with the wide range of people we have the privilege of serving each day.